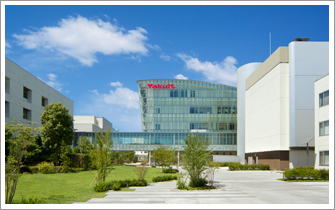 Yakult Central Institute

Yakult Central Institute, through its commitment to discovery and the promotion of a healthful life style, has for years researched the use of intestinal bacteria as a factor in health maintenance, conducting a wide range of studies on the benefits of microorganisms.
"Preventive medicine" and " A healthy intestinal tract leads to a long life "
These are the philosophies of the founder of Yakult, Dr. Minoru Shirota, and they are themes which have remained unchanged, even as times have changed and technology has advanced. Our research institute approaches research and development on the basis of these concepts. Our institute pursues Yakult's life science, which is the search for new possibilities for lactic acid bacteria to play a role in our health in the future.
Yakult Central Institute
Establishment:
April 1955 (initially launched as Shirota Research Institute)
Location:
11 Izumi 5-chome, Kunitachi-shi, Tokyo, Japan
Major Research Fields
Materials development and application research for food products, pharmaceuticals and cosmetics that are beneficial in maintaining, enhancing and revitalizing people's health, as well as microbiology, nutritional science, physiological sciences, immunology, biochemistry, bioengineering, organic chemistry, fermentation engineering, natural products chemistry, pharmaceutical science, analytical chemistry.
---

The institute in Musashino is located inside a verdant forest and surrounded by abundant nature, with clear streams nearby. As an environment for engaging in research, we can say that it is truly optimal. The institute is striving to create a better environment utilizing the power and talents of the institute's staff members.

Rooftop garden

Brain-Mind Space(a chair for experiencing a "forest bath")

Library

Coffee lounge
The institute produces research accomplishments boasting a high level of precision that are supported by advanced research equipment/apparatus. Efforts are made to keep these finely tuned and constantly working in proper order, which in turn helps yield highly reliable results. Equipped with advanced facilities and under a full-scale control system, we strive to achieve higher levels of achievement.

Fourier transform nuclear magnetic resonance (FT-NMR)

Fourier transform infrared spectrophotometer

High-performance liquid chromatograph (HPLC)

Scanning electron microscope

Laser Microdissection

Liquid chromatograph-tandem mass spectrometer (LC/MS/MS)