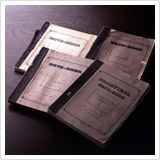 Dr. Shirota's research notes at Kyoto Imperial University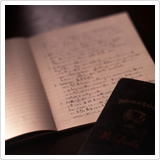 In 1930, Dr. Minoru Shirota succeeded in producing the world's first strengthened culture of lactic acid bacteria beneficial to human health at the Department of Microbiology's Faculty of Medicine of Kyoto Imperial University. The bacteria was named "L. casei strain Shirota" after Dr. Shirota himself.
At the time Minoru Shirota began studying the use of beneficial lactic acid bacteria to prevent disease, curative medicine was flourishing and microbiological research in the medical field was in its early days. Successful cultivation of the Shirota strain was made just 27 years after Eli Mechnikov, a Russian Nobel scholar, published his theory on yoghurt's relation to longevity. Dr. Shirota's study and its results set the precedent for preventive medicine.
---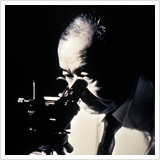 The founder of Yakult, Dr. Minoru Shirota, advocated the importance of preventive medicine and healthy intestines for longevity, and he based his research activities on medicine to prevent diseases and the maintenance of robust intestinal health to help people live longer. His philosophies, termed Sirota-ism, have been carried over and incorporated into the research initiatives of the Yakult Central Institute today.
The concept of Probiotics, which has become widely accepted around the world in recent years, reexamines the innate resistance the human body possesses, and epitomizes the essence of Shirota-ism, which aims to contribute to human via improvement of the balance of intestinal microflora. Our research institute serves as a cutting-edge facility in the field of Probiotics, and through achieving further advancements in this area, we will pursue life-science research initiatives that contribute to the betterment of people's health.
---
Minoru Shirota, M.D. (1899-1982)
Former Chairman of Yakult Honsha Co., Ltd. / Former Director of the Yakult Central Institute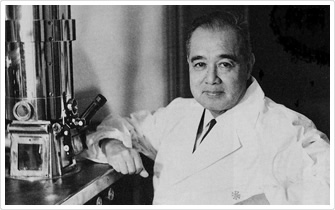 Dr. Shirota devoted his life to the research of intestinal bacteria and the promotion and spread of the concept of preventive medicine. He died in 1982, at the age of 82. He always mentioned the importance of "harmony" and "sincerity" in research, and he sincerely hoped for improved human health around the globe. The Yakult Central Institute inherited and carries on Dr. Shirota's spirit and philosophies.