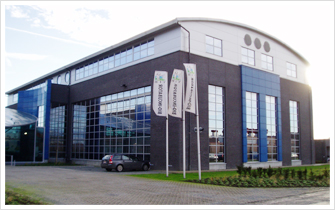 Exterior view, of bio-incubator facility located in the Technologiepark
*The YHER is located on the first floor of this building

In May 2005, Yakult Honsha Co., Ltd founded its European research hub, the Yakult Honsha European Research Center for Microbiology, ESV (YHER) in Ghent, Belgium. YHER has initiated its research activities in order to further consolidate our position as a leading Probiotics company here in Europe, where the concept of Probiotics originated.
The Research Center conducts human studies focusing on the regulation of intestinal functions, including improvement of intestinal flora, in order to accumulate scientific evidence regarding the efficacy of our Probiotic products in Europe. We aim to establish a research base for our global business development not only in Europe, but also in the Americas and Asia through accumulation of such scientific data. YHER and the Yakult Group in Europe are developing vigorous activities together to promote the effectiveness of our Probiotic products.
---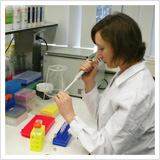 A researcher at work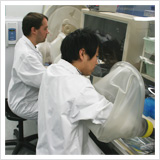 Test of anaerobic culture using glove box apparatus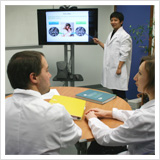 Presentation of research

YHER is situated in a research facility called "Bio-Incubator" (a cluster of biotechnology companies) in the suburbs of Ghent. It is surrounded by a quiet residential area; thus, it is a suitable place to conduct research activities. In 2007 in Europe, a pan-EU regulation on nutrition and health claims made on foods (regulation concerning labeling of the health effects of food products) came into force. We are investigating the effects of our Probiotic products on the intestinal microflora and bowel functions of the European population through clinical trials, in an effort to comply with the regulation.
Yakult Honsha European Research Center for Microbiology, ESV (YHER)
Foundation: May 2005
Location: Technologiepark 4, 9052 Ghent-Zwijnaarde, Belgium
Objectives of the foundation:
To establish a research base in Europe
To investigate the intestinal microflora of the European population
To accumulate scientific data for future international operations
Principal Research Activities
Research and testing to verify the effects of Yakult's Probiotic products on human intestinal flora and bowel functions