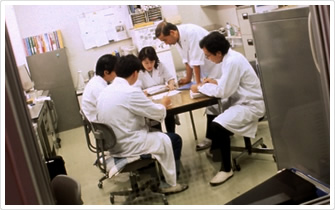 Over the years, the Yakult Central Institute has been extensively involved in research on lactic acid bacteria and intestinal bacteria beneficial to humans in order to contribute to the protection of our health. We have achieved substantial results, including researching the application of lactobacilli for creating better intestinal health. The Yakult Central Institute bases its research activities on "preventive medicine," "the concept that places importance on preventing disease, and "a healthy intestinal tract leads to a long life,"which refers to the maintenance of robust intestinal health to help people live longer, and which was advocated by the founder, Dr. Minoru Shirota. These concepts, known collectively as "Shirota-ism," have been continuously passed down by researchers and kept alive as the principles of our research and development activities.
---

The theme is to realize Yakult's corporate philosophy through the development of food, pharmaceuticals and cosmetics with bio-regulatory functions and which utilize useful microorganisms based on the concept of preventive medicine.
---

We contribute to the health and happiness of people around the world through pursuit of excellence in life science in general and our research and experience in microorganisms in particular.
---

The research initiatives undertaken by the Yakult Central Institute comprise three phases: 1) basic research, 2) development research of materials for food, pharmaceuticals, and cosmetics, and 3) product feasibility research. In the area of foods, we concentrate efforts on development research for "functional materials" that affect various bio-regulatory mechanisms and which promote human health. In the pharmaceuticals field, we carry out development research on preventative and therapeutic treatments for life-style related diseases with an emphasis on anticancer agents.