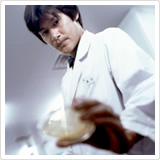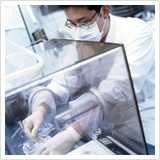 For its entire history, the institute has conducted research on lactobacilli beneficial to human health. The institute has been on the frontline of Probiotic research activities since Dr. Shirota succeeded in creating the world's first strengthened culture of Lactobacillus casei in 1930, and this trend has been carried on by the institute into modern times.
Leading-edge research on beneficial microorganisms is being conducted in a cutting-edge environment by leading-edge researchers. This has become an area where other companies cannot easily catch up.
---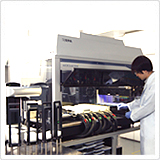 Intestinal flora analysis system, YIF-SCAN
This allows quick, simple and accurate analysis without cultivating intestinal microflora.
"YIF-SCAN" is a registered trademark of Yakult.


Our institute focuses its cornerstone initiatives on research of beneficial intestinal bacteria (intestinal microflora) from the standpoint of preventive medicine.
Utilizing in-house established molecular biological methods without culturing, we analyze and examine the composition of intestinal microflora in healthy and pathological conditions. This data is beneficial in elucidating the effects that intestinal microflora have on functions in the host individual, such as digestibility, immune defense, neural transmission, endocrine secretion, etc.
Moreover, we also aim to discover unknown intestinal bacteria and to ascertain a deeper understanding of the structure and functions of intestinal microflora.
Research Scope
Analysis of intestinal microflora
Cancer prevention
Search for yet-unknown intestinal bacteria
Mechanism elucidation for biophylaxis and intestinal immunity
Gastrointestinal function
Nutrition/physiological regulation

Analysis of intestinal microflora using the multicolor FISH method

Predominant bacteria in the fecal matter of a healthy adult detected by using the multiple staining FISH method

yellow: Bifidobacterium
blue: Bacteroides group
green: Clostridium coccoides group
red: C. leptum subgroup
purple: Atopobium cluster
cyan: Eubacterium cylindroids group
---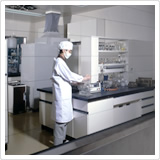 The Probiotics bacteria L. casei strain Shirota and B. breve strain Yakult possess a diverse and great potential. The search and detection of new bio-markers is essential to elucidate new functions of Probiotics, and in order to clarify the effects of these Probiotics on health maintenance and pathological amelioration, our institute has conducted countless fundamental and clinical research activities. Concurrently, we are also engaged in research concerning safety of Probiotics, as well as the discovery of new Probiotics.
Research Scope
Elucidation of biofunctional regulatory effects of Probiotics
Genomic analysis and post-genome research of Probiotics
Clinical application of Probiotics

Laser scanning confocal microscope

Macrophages ingesting L. casei strain Shirota photographed with the laser scanning confocal microscope

DNA sequencer

Analysis of gene expression using DNA microarray