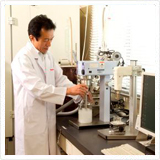 Emulsification testing

In the area of cosmetics, we are engaged in research on new materials that is supported by evidence obtained through microbiology and dermatology. Via application of lactic acid bacteria fermentation technologies, we have developed in-house proprietary materials that have enhanced functions in terms of moisturizing effects, antioxidant properties and antiinflammatory activities. Moreover, from a dermatological standpoint, we have developed a lipid-formed lamellar structure that closely resembles intercellular lipids in healthy skin. We are also involved in development of state-of-the-art skin condition measuring technology that can objectively assess skin damage and signs of aging and is thus beneficial in the engineering of antiaging cosmetics.
---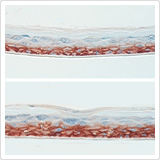 Three-dimensional model of human skin
Enhanced hyaluronic acid production by BE liquid (produced through bifidobacteria fermentation of soy) in a three-dimensional model of human epidermis
Brown color: area where hyaluronic acid is produced

We are implementing research and development based on the concept of internal and external beauty, which is aimed at maintaining optimal health and beauty throughout one's entire self. Employing lactic acid bacteria fermentation technologies, our philosophy of utilizing the power of beneficial microorganisms to benefit people's health and well-being is actively incorporated in cosmetics as well as food development.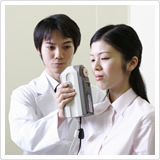 State-of-the-art skin condition measurement device
Details of Our Development Research for Cosmetics
Utilization of beneficial microorganisms and natural substances
Research of technologies for cosmetic production
Fundamental and applied research on internal and external beauty
Immunofluorescence analysis of epidermal skin cross section
Activated transglutaminase (TGK) detected in skin by using a specific monoclonal antibody
Fluorescent green:activated transglutaminase
Red:epidermal keratinocytes