Among our research and development initiatives for food materials, our most intense efforts are focused on Probiotics-related research that carries on our founder's philosophies, i.e. the importance of preventive medicine and the idea that a healthy intestinal tract leads to a long life.
The term Probiotics is derived from probiosis, which means a symbiotic relationship between two organisms, and is defined as a live microbial culture that beneficially affects the host animal (humans). This concept involves using the power of beneficial bacteria to promote human health, with L. casei strain Shirota and B. breve strain Yakult serving as excellent examples. In utilization of carefully selected, highly enduring strains of bacteria, we have remained a world leader in the field of Probiotics. Moreover, as a pioneer in the realm of Probiotics, we have conducted exploratory research to identity new functional lactobacilli and bifidobacteria strains for use in product development.
Recently we demonstrated the beneficial effect of the B. bifidum strain BF-1 on the stomach and now development of a new fermented milk using this strain has been launched on the market.
---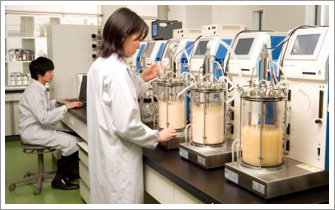 Fermentation experiments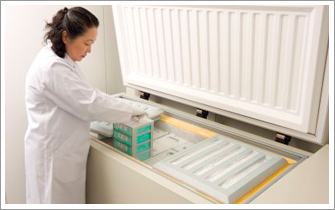 Collection of lactobacilli and bifidobacteria

Scanning electron micrograph of L. casei strain Shirota

Scanning electron micrograph of B. breve strain Yakult

Scanning electron micrograph of B. bifidum strain BF-1

Development and application of lactic acid bacteria fermentation technology comprise a vital area for our food materials development research initiatives, and we have applied this technology to produce new achievements.
We identified that via a mixed culture of L. casei strain Shirota and Lactococcus lactis, GABA (gamma amino butyric acid) could be effectively produced from milk, and utilizing the blood pressure-lowering effects of GABA we subsequently developed a fermented drink for people with mild hypertension.
For such applications of lactic acid bacteria fermentation technology, we are additionally expanding our research horizons to not only cover Probiotics, but also the development of new materials beneficial in preventing lifestyle-related diseases, and the utilization in foods for specified health use.
Testing of artificial gastric juice tolerance, employing viability determination by fluorescent staining (after 60-minute immersion)
(left: L. casei strain Shirota ; right: L. bulgaricus )
green: Surviving bacteria
red: Non-surviving bacteria
Details of Development Research on Probiotic Products
Discovery of beneficial microorganisms and physiological and biochemical research
Improvement of useful microorganisms
Detection and improvement of useful components in milk
Development of new fermentation technologies utilizing lactic acid bacteria
---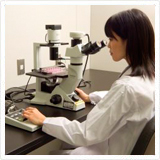 Verifying the functionality of food ingredients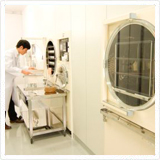 Preparing test samples with a freeze drying machine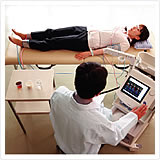 Blood pressure pulse wave measurement device

The onset of lifestyle-related diseases, which have become a serious social issue in recent years, is triggered by various factors such as dietary habits, amount of exercise, alcohol intake, stress and so on. We concentrate efforts on development research for the prevention of lifestyle-related diseases, particularly from the standpoint of dietary patterns. Concerning non-Probiotic functional food products, we have a long history of research initiatives targeted towards beneficial food materials. We examine and verify the mechanisms of biological regulatory effects of food substances, and we develop health-promoting foods based on scientific evidence. This includes our achievements regarding guava leaf polyphenol, whose action prevents rapid increases in blood sugar after meals, and active fucoidan, an active component extracted from Okinawa mozuku (a kind of brown algae) seaweed, that helps protect the stomach lining.