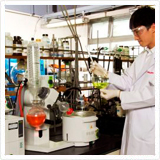 Synthesis of new chemical compounds

Our pharmaceutical development initiatives started with the development of enzyme agents and Lactobacillus Probiotic preparations, and from the standpoint of preventive medicine we have subsequently expanded our horizons to the medical and pharmaceutical fields.
Specifically, we have produced tangible achievements in developing unprecedented and novel types of chemotherapeutic anticancer drugs based on our research efforts on the prevention and therapeutic treatment of lifestyle-related diseases.
---

Using a protein synthesizer to produce target proteins for drug discovery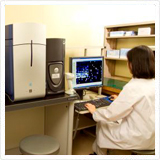 Using a DNA microarray to search for target genes for drug discovery

Our current development activities for pharmaceuticals are focused on the area of cancer treatment. And our in-house developed proprietary chemotherapeutic anticancer drug known as "Campto Injection (irinotecan hydrochloride)" quickly gained attention overseas when introduced and is presently employed on the front line of cancer treatment virtually throughout the world. Meanwhile, our newly introduced anticancer agent, "Elplat (oxaliplatin)", is widely used in Japan for the treatment of colorectal cancer.
Via genetic information and computer science-intensive activities, we are moving forward to discover new anticancer substances with minimum side effects, and are promoting research with a specialized focus on anticancer agents.
Details of Pharmaceutical Development
Searching for useful components in natural substances
Analysis of therapeutic and pharmacological effects
Elucidating active components and synthesis of derivatives
Preclinical studies of new anticancer agents
Pharmaceutical design
Pharmacokinetic analysis