Organizational Structure and Roles
We aim to contribute to a healthy lifestyle for people based on our belief in the outstanding capabilities and potential of microorganisms.
The Yakult Central Institute bases its research activities on "Shirota-ism," a philosophy comprising the following concepts advocated by Dr. Minoru Shirota, the founder of Yakult: preventive medicine, which focuses on preventing people from becoming sick; a healthy intestinal tract leads to a long life; and offering products at a price that anyone can afford.
What kinds of lactic acid bacteria and intestinal microorganisms are there and how are they related to human health?
We have produced a number of achievements over the years by repeatedly pursuing this question and applying it in our research, and our research activities are still ongoing.
The Institute continues to treasure Shirota-ism in all of its activities.
This philosophy lives on among our researchers as a foundation that supports development research at the Yakult Central Institute.

The Corporate Philosophy of Yakult
 In accordance with Yakult's corporate philosophy, the Yakult Central Institute has continued to undertake new research with the aim of contributing to the health of Japan, the rest of the world, and the earth itself without forgetting the importance of personal integrity and human warmth. This unchanging desire is and will continue to be held by each and every researcher at the Yakult Central Institute.
 The philosophy of Yakult's founder, Dr. Shirota, and the research achievements we have enjoyed over the many years since our founding, have given rise to research and human resources that will lead us into the future. In addition, the point of focus for our unique research is to create state-of-the-art, innovative research results based on microbial research that can ultimately improve the global environment.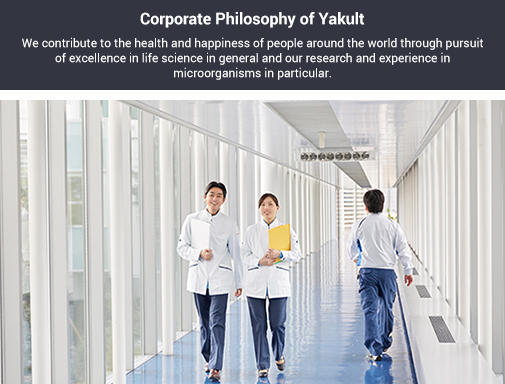 On the Guiding Principle of Our Research and Organization
 At the Yakult Central Institute, we have pioneered the use of preventive medicine and produced numerous achievements in research focused on intestinal microorganisms. We utilize this research in the development and application research of materials for food, pharmaceuticals, and cosmetics that are useful in maintaining and improving people's health. In these research activities, we strive not only to create an organization and environment that will allow researchers to devote themselves to their work, but also to establish a system that facilitates the dissemination of reliable research results.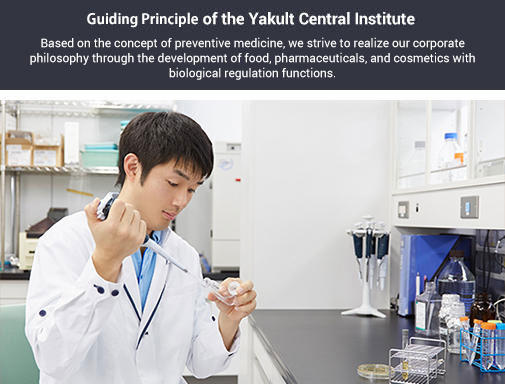 Organizational Structure
 The Yakult Central Institute consists of: seven functional laboratories with their own distinct focus; the Administrative Department, which is involved in the management of the laboratories; and the Research Management Department, which is responsible for formulating research strategies, promoting research activities both in Japan and overseas, as well as managing and disseminating information.
 We also have the Quality Assurance Unit, which is a specialized department that is responsible for ensuring and guaranteeing the reliability of various studies, research work and research data at the Institute.
 Furthermore, the Yakult Central Institute and the Yakult Honsha European Research Center for Microbiology VOF in Ghent, Belgium have been working to conduct research activities worldwide.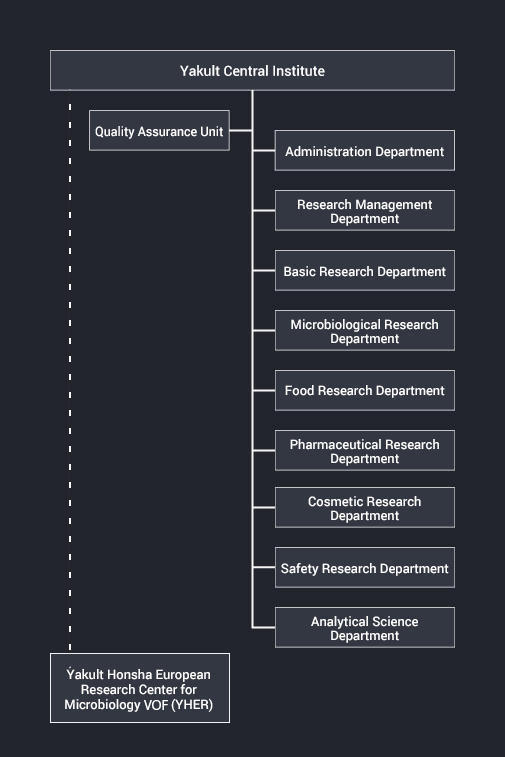 Steps Leading Up to the Creation of a Product: Research and Development
 Many steps need to be completed before a new product is created. The Central Institute is mainly engaged in the development of functional materials, which itself is broken down into three steps: basic research, material development research, and commercialization research. Fully fledged product development is carried out at the Product Development Department of each business division for the candidate materials.
 In the commercialization research, each field focuses on a particular theme. Yakult carries out its own unique research and development into materials in a variety of fields, including the following: materials that serve to maintain and promote health as foods; materials that can become anti-cancer drugs with high specificity for cancer in the pharmaceuticals field; and materials that are based on dermatology and are extremely safe in the cosmetics field.