Safety Research Department
Ensuring Customer Safety and Peace of Mind
The Safety Research Department evaluates the safety of all materials for food products,
pharmaceutical products and cosmetic products and conducts research activities to ensure reliability from safety perspectives.

Research areas
- Safety assessments for probiotic strains
- Safety assessments for foods, cosmetics and pharmaceutical products and materials
- Backup research into product safety
- Development of a new safety evaluation system
Stressing Safety in Product Development
 We place the highest priority on safety, for not just the final product but throughout the whole process from the material development stage, in all research areas including food products, pharmaceutical products and cosmetic products. Our assessment level is not only in compliance with the standards and specifications determined by the government but also exceeds our own high standards.
 In addition, for our probiotic products we conduct safety studies down to the strain level and are acquiring data to verify the safety and reliability of our food products. The Safety Research Department, which is an independent organization established within the Yakult Central Institute, is making efforts to ensure reliability through objective safety evaluations.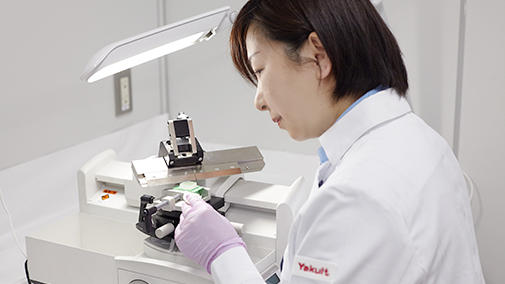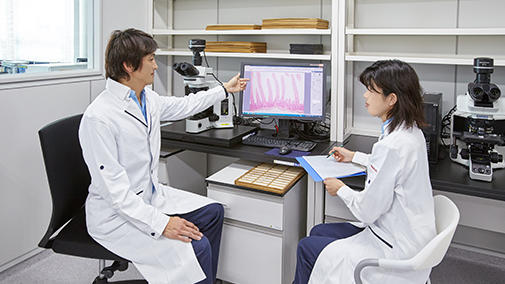 Safety Research that Puts Customers First
- Pursuing the Safety of Products that have Gone to Market -
 The Safety Research Department also conducts studies to support our products after they become available in the market. For example, it conducts studies to assess the influence of food ingredients developed by our company on the effects of pharmaceuticals (drug/food interaction). The Safety Research Department will continue pursuing the safety of food in the market as an important research agenda, taking into consideration the customers' preference and purpose of use.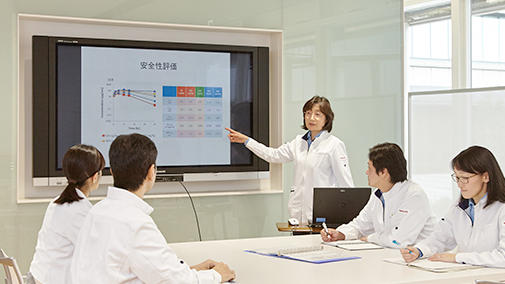 Efforts to Develop New Safety Evaluation Methods
 In the Safety Research Department, researchers in different fields maintain and manage advanced equipment and facilities and conduct highly accurate studies. They are also making efforts to develop and incorporate new safety evaluation methods. The goal is to conduct a higher level of safety evaluation by using new methods.