Quality Assurance Unit
Pursuit of Safety and Peace of Mind
The Quality Assurance Unit has the duty of ensuring the credibility of various research data relating to the verification of safety and efficacy in product development from a third party perspective.


Research Data is Rigorously Checked from a Third Party Perspective - In Order to Support the Credibility of the Yakult Central Institute -
 The various safety and efficacy studies necessary for developing food, pharmaceuticals, cosmetics, and other products are required to not only have accurate data, but need to adhere to their respective regulations and standards. In regard to studies which comply to standards required in pharmaceutical development and safety studies that strictly adhere to the GLP (Good Laboratory Practice) implemented at the Yakult Central Institute, the Quality Assurance Unit strives to ensure the credibility of the entire study by inspecting the data objectively and rigorously. In addition, it also ensures the reliability of seed cultures for production sent by the Yakult Central Institute to overseas plants on a regular basis.
 Furthermore, it provides support as the monitoring department in meeting regulatory criteria and acquiring certification that may be newly required for research activities conducted by the Yakult Central Institute and works to promote their adaptations to daily activities. Meanwhile, since strict compliance to laws and regulations regarding research activities require the greater awareness and self-management of each individual at the institute, it conducts research ethics training in collaboration with each department at the institute.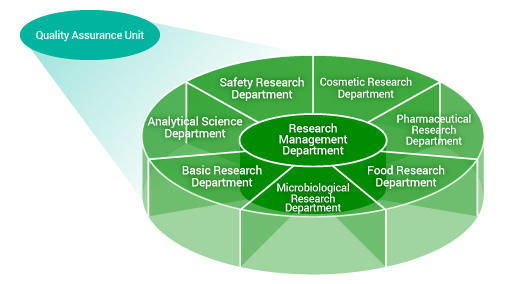 Role of the Quality Assurance Unit